| | |
| --- | --- |
| | Shrine Hospital News |
Editorial Without Words Statue Installed at Salt Lake City Hospital
By Melissa Phillips, Public Relations Specialist
Words… we have a lot of them in the English language. Merriam Webster estimates there are roughly a million in existence. We count on them to speak, read and write. But every now and then we stumble across something extraordinary, something words can't adequately describe. So, we let the imagery and emotion speak for itself. For many decades, that's been the case for the Editorial Without Words.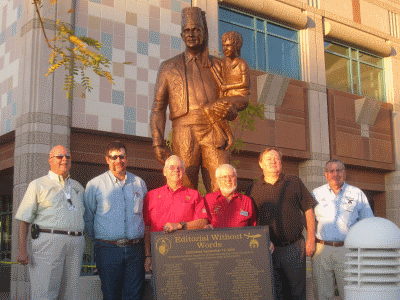 The "Silent Messenger" now stands in front of Shriners Hospitals for Children--Salt Lake City. The larger-than-life statue was unveiled earlier this year at the beginning of Divan Day by its chief fundraiser, El Kalah Potentate Jon "Spinner" Harris.
"It means a lot, it represents what the Shrine is all about and that is helping children at no charge," noted Harris.
The image of the Shriner carrying a little girl and her crutches is probably the most recognized symbol of the "World's Greatest Philanthropy". Shriners Hospitals for Children has provided approximately 835,000 children with specialized care for orthopaedic conditions, burns, spinal cord injuries and cleft lip and palate.
The first hospital opened its doors in 1922. Twenty-two hospitals now make up the hospital system that is often referred to as one of the best kept secrets in health care.
Whether it's leading the way in research of Brittle Bone Disease, advancing bracing techniques to give children diagnosed with infantile scoliosis a chance to grow or building prosthetic legs for a child others said would never walk, Shriners is providing more than expert pediatric care. It's giving children a chance to live the kind of lives they dream about.
Hospital Administrator Craig "Patch" Patchin says, "This statue is a fitting tribute that not only honors the work of the individual Shriner, it also recognizes the mission of our great philanthropy."
Six-months of planning, $40,000 and countless headaches later, the statue was well worth the cost. It's one of the first things people notice when they pull into the parking lot. If you look up at the statue, you'll notice lettering on the fez--it's indecipherable. It seems strange, but the tangled hodgepodge of symbols makes sense if you consider it in terms of what the statue represents. The Salt Lake City hospital is a regional facility serving seven U.S. states as well as two states in Mexico. The hospital is supported by ten Shriners temples. The statue represents all of the Shriners, not just one particular temple.
The Silent Messenger stands facing forward, delivering a message of hope and healing. It's estimated an educated person has 20,000 words in their vocabulary. That's a lot to choose from, but when describing a statue that speaks without words, there are 13 words that stand out and they are the words Shriners come to live by:
"No man stands so tall as when he stoops to help a child."